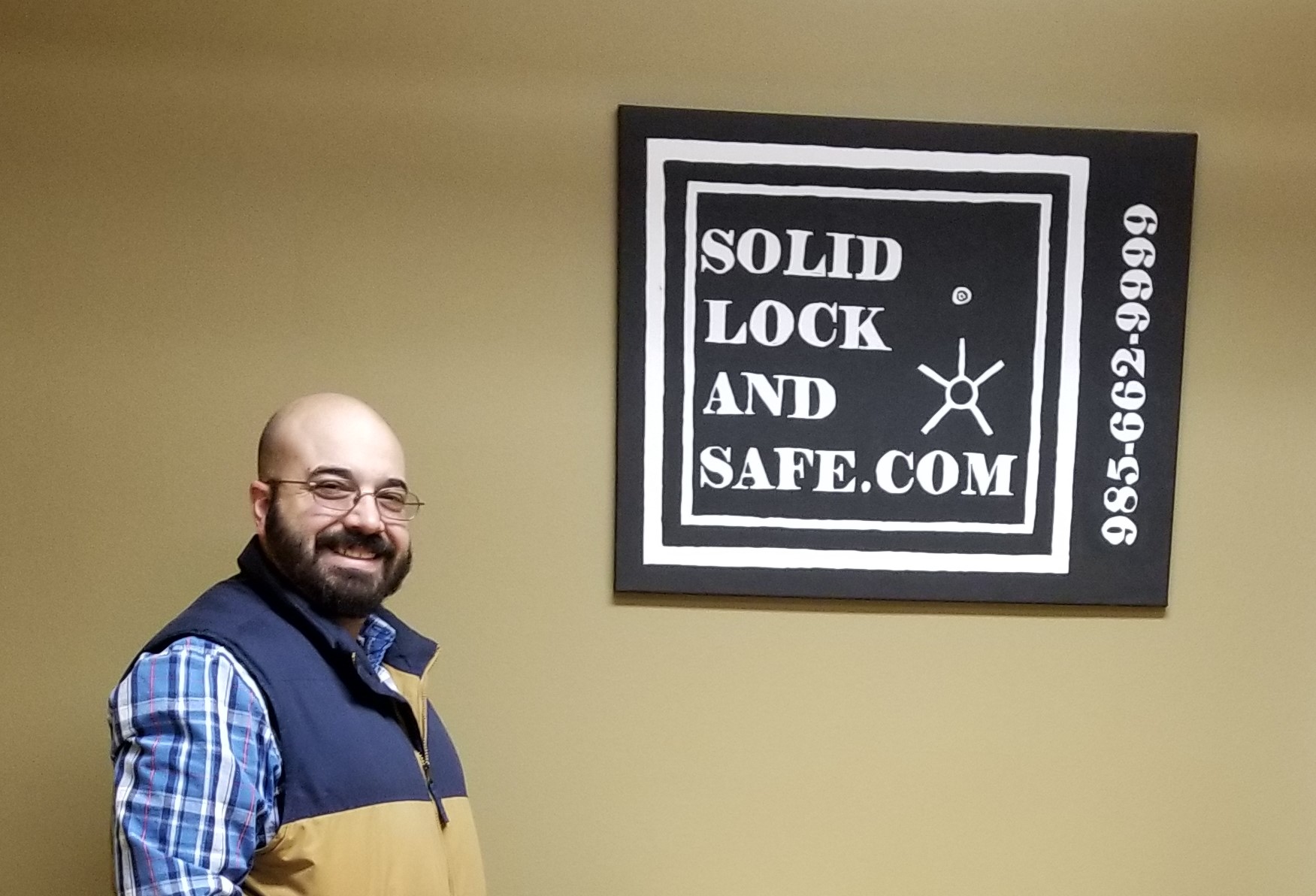 Solid's Approach
Locally owned and operated, Louisiana licensed.  Call in, we'll discuss what you need.  If it is something I can help you with, I'll give an upfront price.  There will be no surprises, period.  If I cannot help you I will try to point you in the direction of someone local who can.
That's it.  No gimmicks, no bait and switch, no sales pressure.
St. Tammany Parish
Solid Lock and Safe is proud to have an office in downtown Covington, Louisiana.  Since Solid typically spends the day on the road at customers sites, appointments are needed to meet at the office.
Solid Lock and Safe, LLC.
522 North New Hampshire, Unit #10
Covington, LA
70433
Located near the Courthouse and close to the  Covington Trailhead, The office is within walking distance of Covington's great food and shops.
Very Important! Solid Lock is mostly a Mobile service, but will be happy to meet you at the office to save you trip fees.  Just remember to call ahead first and schedule a meeting to make sure I'm here.
Tangipahoa Parish
Tangipahoa Parish is where Solid Lock started, and Solid is still proud to serve it.  With Mobile service from Ponchatoula, through Hammond and to Kentwood, Solid is happy to cover the parish.
Southeast Louisiana
Solid Lock and Safe is a mobile Locksmith Service.  Coverage of the entire Southeast Louisiana Region and beyond is service Solid is proud to offer.
Livingston Parish
Slidell
New Orleans
LaPlace
Baton Rouge
Houma
Geismer
Grande Isle
and much more.
Who is Sold Lock?
When you contact Solid Lock, you know who you are getting and the quality of Service and Professionalism that comes with it.
My name is Michael Jennings.  I am the owner as well as the locksmith.   That is me in the picture at the top. This is my Local SE Lousiana Business and I am proud of it and the work that I do.
I have a rich background in Safety, Security, Emergency Preparedness and Response.  And this background has brought me back full circle to opening Solid Lock and Safe so I can continue to do what I love.
I take my work seriously and I treat everyone as I would like to be treated.  I firmly believe if it's worth doing, it's worth doing right.
Unique Qualifications
10+ years locksmith experience
SELU Graduate in Industrial and Construction  Technologies
Strong background in Industrial and Manufacturing Safety and Environmental Positions 7+ years
Understand PPE and pre-work training requirements may be necessary for some jobs (please clarify what PPE is required for site access in advance of job)
TWIC Card available
Strong working knowledge of

LOTO
Confined Space
Hotwork
Work Permitting
Machine Guarding
Fall Protection
(When required by facilities)
Thank You..
If you have made it all of the way to the bottom of this page.  Thank you for taking the time to read a little bit about Solid.  If you have any questions or would like to set up service.  Please give me a call and I'll be happy to help.
-Michael Jennings