Welcome to Solid Lock and Safe, LLC.  Founded in 2016, by a local Louisiana resident with many year's prior locksmith experience.  Solid Lock started as a mobile locksmith company based out of Hammond, Louisiana 70404.  In 2018 Solid Lock was excited to put down formal roots and expand to its first physical office location in downtown Covington, Louisiana 70433.  This office location serves as a jumping off point for entire Southeast Louisiana coverage.  Solid Lock is proud to serve the entire Southeast Louisiana region with full mobile service
(Very limited office hours are available for specific services by prior appointment only)  Please do not come to the office location looking for key copies to be cut on site.  That is not really the type of service we specialize in, and I wouldn't want you to waste a trip or feel disappointed.
Licensed by Louisiana Office of State Fire Marshal.
LASFM Licensed F2180
Proud Member of SAVTA (Safe and Vault Technicians
http://www.savta.org/ 
Be Careful!
Solid Lock knows that plenty of phone numbers show up when you search for a locksmith, but dig a little deeper when you see those adds and don't be afraid to ask questions.  Unfortunately lots with phrases like "our nationwide network" and "local technicians are standing by" often dominating the search results.  Whether you choose Solid Lock or another locksmith don't be afraid to ask plenty of questions, find out information about them, and make sure they are licensed and insured.  Solid Lock will show up in a company work vehicle, with an ID and Locksmith License available for review upon request.  Solid is here to help you at a fair price and wants to make sure you feel completely comfortable.
Do a quick google search for "Locksmith Scams"  or visit Wikipedia "Locksmith Scam" to get an idea of things to look out for and questions to ask.  Solid Lock refuses to engage in any pay-per-lead advertising, period.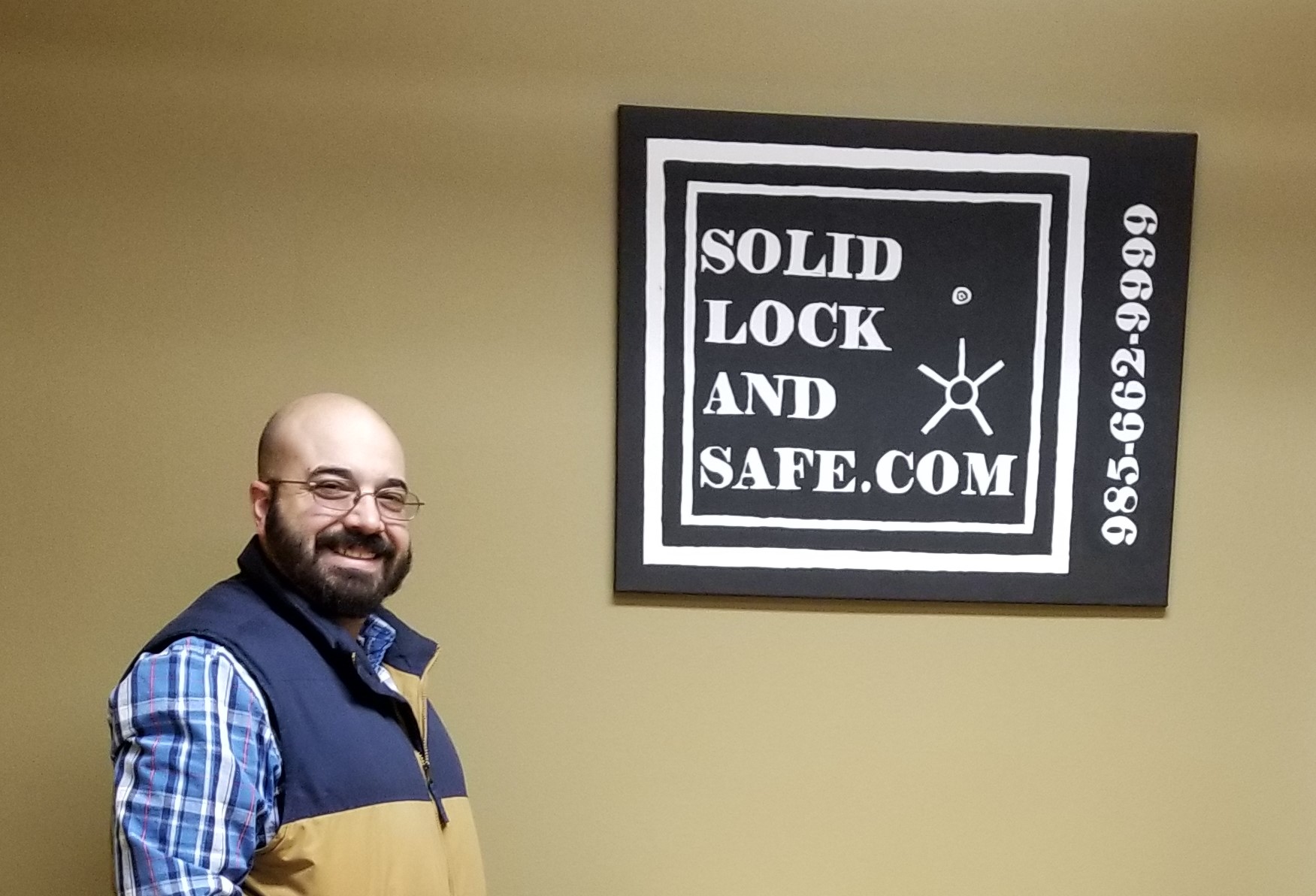 Solid Lock loves Safe and Vault work.  With Weekday, Weekend and Afterhours Emergency Service available for Safes and Vaults.  Safe and Vault service is one of Solid Lock's specialties.  Need to schedule regular weekday service?  Locked out after hours?  Only have free time on the weekends?  Give us a call.  You'd be surprised as how flexible the schedule is for Safe and Vault work.
Residential     Commercial     Government
X10 LKM10K Certified
From retro residential to modern Commercial systems.  Solid Lock works extensively with customers who need services to unlock, bypass, secure, and reconfigure locking hardware to meet their needs.
Solid Lock loves a good mechanical mystery.  If you have an antique lock, an odd ball lock.  Whether an antique  padlock in hand, or a lock installed on a favorite family heirloom, or a mysterious locked up furniture or old steamer trunks, give Solid a call.  Solid loves to work on History, and the utmost care is taken to open the lock or make a key without damage to the antique.  While this is a service that solid lock loves to preform for customers, please note due to the extremely custom nature of this work, often these projects take time to procure and schedule slots to handcraft appropriate keys.
This is subject to technician scheduling availability.
Automotive keys including Car, Truck, SUV.
Vehicle Unlocks
Lost Keys Replaced
Damaged Key repair or replacement
Remote and Proximity Keys
Solid Lock also can make the occasional Car, Boat, RV and Big Rig Key.
BIG NEWS IS HERE!
Solid Lock and Safe is now a Fully Certified GSA Safe and Vault Technician offering full GSA Safe and Vault services.  For more information visit
www.solidsafetech.com
The Solid Advantage
Honest answers and quotes.   No misdirection.  No bait and switch.  What Solid quotes is what solid stands behind.
Dedicated problem solving with destructive bypass methods only utilized as a last resort.